Falklands.net web awards
To be considered for our award your site must provide information about the Falkland Islands and/or Falklands wildlife.
The site may be commercial in nature, but must include noncommercial material that is informative, educational or entertaining.
To apply for your award, fill in the form to the right of this page and hit the send button. We will review your site and e-mail you if you have won our award.
Award winners will receive an award graphic that they can place on their site, and will receive a link and short description of their site on this page.
Note that awards are offered at the sole discretion of the Environmental Research Unit.


Adopt and name your penguin, and we will send you reports and photos of your penguin's progress. We will even send you a map to show you exactly where your penguin lives, in case you ever want to visit. (Visitors are welcome).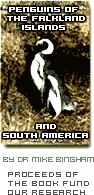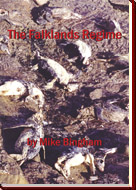 The Falklands Regime by Mike Bingham

We are always pleased to receive donations in support of our work. If you would like to make a donation, click here.