Falklands penguins - Falkland Islands penguins, seabirds, seals, sealions, birds and other Falklands wildlife.











Environmental Research Unit, PO Box 434, Stanley, Falkland Islands
Please help support our work to save Falklands wildlife.
Make a Donation using our secure on-line credit card form.

.


In November 1999, a wildlife film crew from Paramount Pictures visited the Falkland Islands in order to film a documentary about Mike Bingham and the Environmental Research Unit. They followed Mike around the islands recording his work and filming the wildlife which they encountered.
This is now presented in a series of three documentaries being shown around the world on Discovery Channel's Animal Planet. The programmes can be reviewed on Paramount Pictures' Wild Things web site by clicking the images below.

---
LITTLE KINGS - features Mike Bingham's work on King Penguins. These extraordinary birds are certainly not camera shy, and are soon gathered around us to see what's going on. Whilst Mike conducts his population counts and records mating behaviour, the chicks are preparing for their transformation into adulthood.
WIND BENEATH THEIR WINGS: follows Mike's albatross studies in the Falkland Islands. The majority of the world population of Black-browed Albatross breed in the Falklands, and Mike studies population trends, breeding success and adult survival rates to ensure the population remains healthy.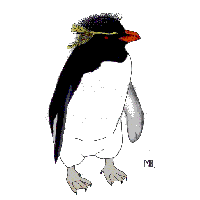 ROCK ON PENGUINS: follows Mike Bingham as he conducts his annual counts of Falklands penguins. Along the way we meet a friendly fur seal, skuas stealing eggs and no less than four different types of penguins.
.
NEWSPAPER REPORTS: The documentaries above are not the first time that the Environmental Research Unit has featured in the International media. The extraordinary accounts of how the Environmental Research Unit came to be established were reported in the British press in 1999, and can be viewed by clicking on the icon to the left.