Falklands penguins - Falkland Islands penguins, seabirds, seals, sealions, birds and other Falklands wildlife.










International press reports of our work to save penguins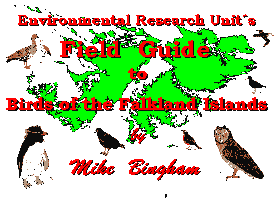 "Penguins of the Falkland Islands & South America"
by Dr Mike Bingham
Electronic download: $3.95
Paperback: $10.95
Proceeds fund our Research

Environmental Research Unit, PO Box 434, Stanley, Falkland Islands
Please help support our work to save Falklands wildlife.
Make a Donation using our secure on-line credit card form.

.

RESEARCH PUBLICATIONS
For people wishing to know more about our penguin research, you will find below a selection of recent publications. Maps and figures relating to these publications can be found in Picture Gallery 1. Any information used or copied from these reports MUST be referenced to the source article as given at the heading of each report.